The Cooperative Bank of Oromia has launched a prize-linked savings program with enticing prizes. For the first time, the bank began the program with the goal of encouraging people to save, and at the same time win attractive prizes.
On top of the high interest rates calculated for; Sinqe- Women Savings Account,  Gamme- Junior Savings Account, Youth Savings Account, Farmers Savings Account and Regular Savings Account, the bank is offering lotto numbers that will make customers eligible to win exciting prizes. Any eligible customer who saves for the program period starting at ETB 350, Coopbank of Oromia has prepared a total of 99 prizes! 1 two-bedroom apartment, 1 Suzuki Dzire 2021 model automobile, 3 three-wheel drives, 30 TVs, and 65 smart mobile phones that will be casted by lottery system.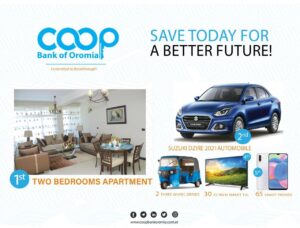 The project will encourage people to save more since the more they save, the more lottery numbers they will be able to obtain, increasing their chances of winning. The bank has invested a significant amount of money in this program, which is expected to achieve two primary objectives. The first is that, because saving is a vital quality and people can utilize their money whenever they wish, such as in an emergency or to start a business, this program instills the habit of saving in our culture. The second is that 99 lucky people who use one of the aforementioned accounts will be chosen at random to win one of the attractive prizes.
You may go to a nearby branch of Coopbank to start saving today. Save for a better future.