Coopbank Introduces Coop-Chapagram: A New Digital Financial Service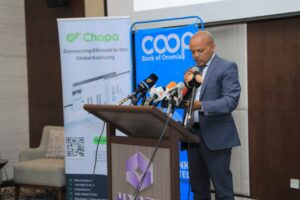 (Addis Ababa, August 15, 2023) – Coopbank, a pioneer in digital financial solutions, proudly announces the launch of its latest innovation, Coop-Chapagram, in partnership with Chapa, a leading financial technology provider.
The official launch of the Coop-Chapagram digital financial technology took place today, witnessing the presence of key stakeholders and industry leaders.
Coopbank of Oromia, renowned for pioneering user-friendly financial technologies, has joined hands with Chapa Financial Technology Company to unveil Cop-Chapagram, a revolutionary payment solution integrated with the Telegram chatbot platform.
Learn More
BHGOf, BARA MILKAAYINAA Qabeenyi Waliigalaa Biiliyoona 114 Ol Gahee Jira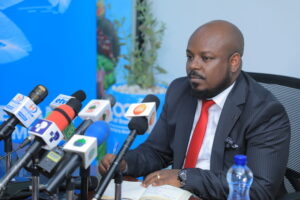 BHGO jijjiirama bu'uuraa qorannoo irratti hundaaye waggaa 5 dura taasifameen, tarsiimoo guddinaa
waliigalaa hojiirra oolcheen, mul'ata lafa kaa'ate dhugoomsuuf, gama hundaan cimee hojjachuun daandii
guddinaa abdachiisaa irratti argama. Ulaagaalee madaallii milkaa'ina hojii baankiin, raawwii hojii faaynaansii akkasumas gahee gabaa baankii keessatti qabuun akkuma bara darbee baranas rii olaanaa
galmeessee jira.
Learn More
Hawaasasaaf dhimmamuu sonasaa kan taasise, BHGO lammii baraaruuf kutannoo qabu agarsiise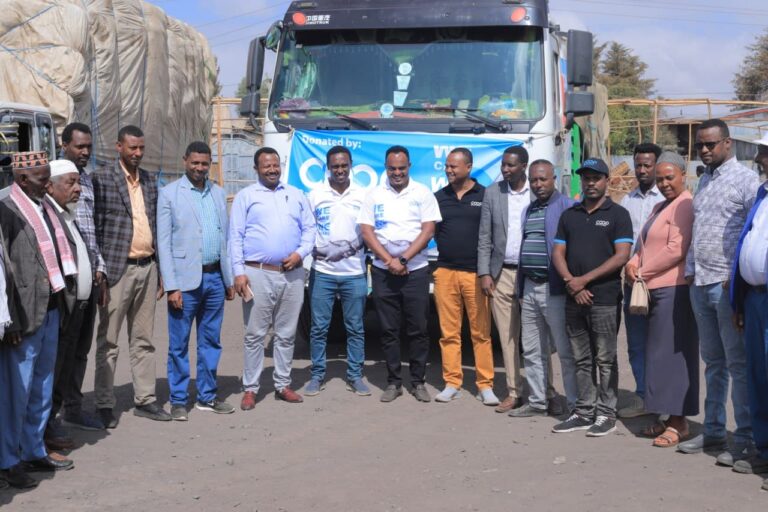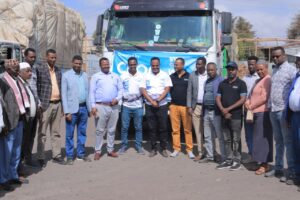 Guraandhala 24, 2022 Finfinnee
BHGO hawaasasaaf dhimmamuu sonasaa taasisuun lammii baraaruuf kutannoo qabu qabatamaan agarsiisuu daran cimsee itti fufee jira. Baankiin keenya, sababa hanqina roobaa biyya keenya mudateen hongee uumameen lammiilee balaa beelaaf saaxilamaniif, gargaarsa namoomaa kabaja guyyaa waldaalee hojii gamtaa irratti abbootiin aksiyoonaa baankichaa fi gaggeessitoonni olaanoo mootummaa bakka argamanitti deeggarsa Qar. Miiliyoona 70 waadaa galuun isaa ni yaadatama.
Michu uncollateralized digital lending product
Cooperative Bank of Oromia & Kifiya Financial Technology announce partnership for the launch of Ethiopia's first uncollateralized digital lending product, Michu.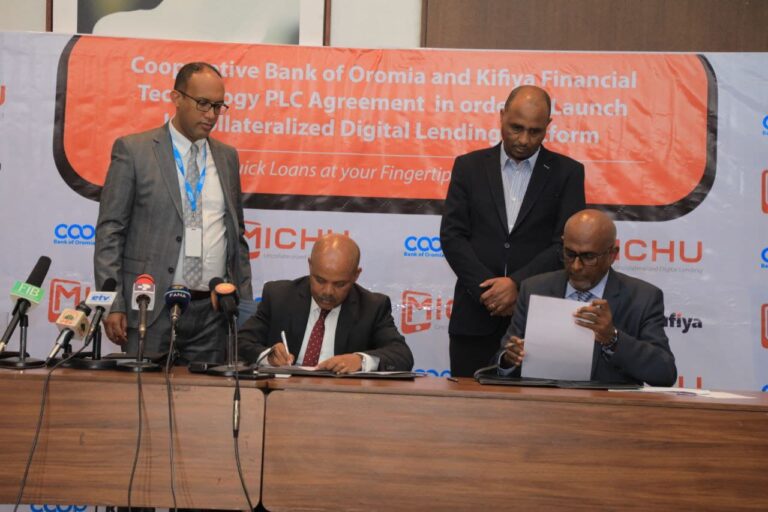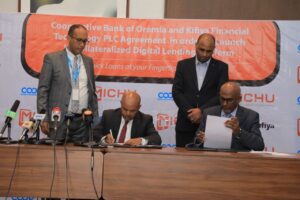 Addis Ababa, Ethiopia, January 12, 2022, Cooperative Bank of Oromia (Coop bank) and Kifiya Financial Technology (Kifiya), today announced a new partnership and launched a digital lending product named Michu.
Coop bank's Michu is Ethiopia's first uncollateralized digital lending product, powered by Kifiya's Qena, an AI-driven digital lending platform.
The partnership allows Coop bank to tap into Kifiya's digital lending technology and give Kifiya the ability to leverage Cooperative Bank of Oromia distribution and financial capacity. The Bank will offer lending solutions targeting Micro, Small, and medium businesses (MSMEs), providing access to credit, through groundbreaking and cutting-edge credit scoring systems.
Research shows that Ethiopia's MSME Financing to GDP Ratio was 2% in 2020. This ratio is lower than South Africa's 14% and Kenya's 6% in 2020. Ethiopia's poor ratio is attributed to the crowding-out of credit by the public sector and high requirements for a loan to MSMEs by Micro-Finances and Commercial Banks.