Hawaasasaaf dhimmamuu sonasaa kan taasise, BHGO lammii baraaruuf kutannoo qabu agarsiise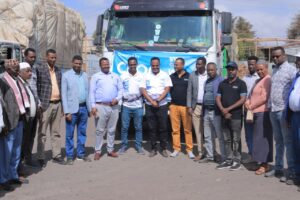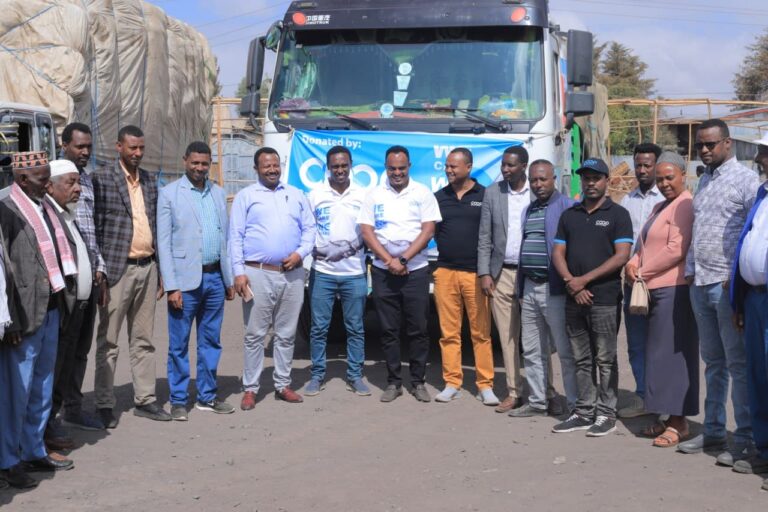 Guraandhala 24, 2022 Finfinnee
BHGO hawaasasaaf dhimmamuu sonasaa taasisuun lammii baraaruuf kutannoo qabu qabatamaan agarsiisuu daran cimsee itti fufee jira. Baankiin keenya, sababa hanqina roobaa biyya keenya mudateen hongee uumameen lammiilee balaa beelaaf saaxilamaniif, gargaarsa namoomaa kabaja guyyaa waldaalee hojii gamtaa irratti abbootiin aksiyoonaa baankichaa fi gaggeessitoonni olaanoo mootummaa bakka argamanitti deeggarsa Qar. Miiliyoona 70 waadaa galuun isaa ni yaadatama.
Learn More
Michu uncollateralized digital lending product
Cooperative Bank of Oromia & Kifiya Financial Technology announce partnership for the launch of Ethiopia's first uncollateralized digital lending product, Michu.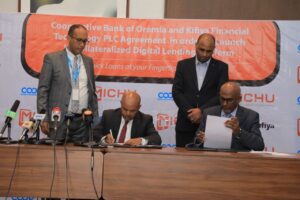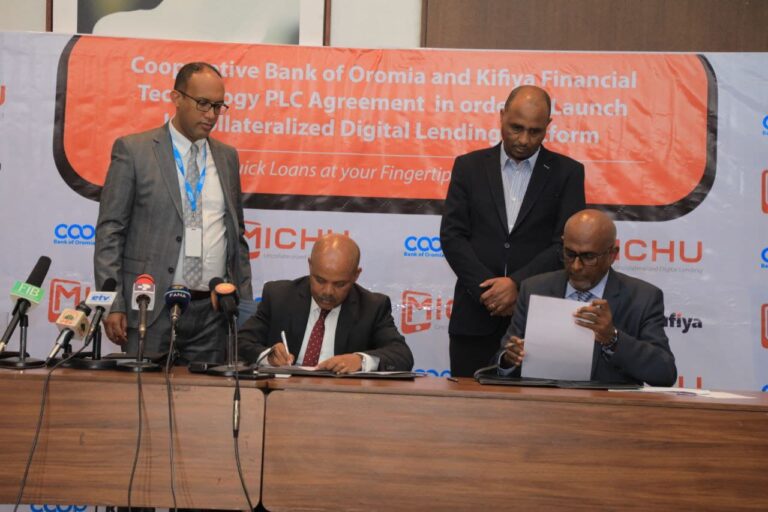 Addis Ababa, Ethiopia, January 12, 2022, Cooperative Bank of Oromia (Coop bank) and Kifiya Financial Technology (Kifiya), today announced a new partnership and launched a digital lending product named Michu.
Coop bank's Michu is Ethiopia's first uncollateralized digital lending product, powered by Kifiya's Qena, an AI-driven digital lending platform.
The partnership allows Coop bank to tap into Kifiya's digital lending technology and give Kifiya the ability to leverage Cooperative Bank of Oromia distribution and financial capacity. The Bank will offer lending solutions targeting Micro, Small, and medium businesses (MSMEs), providing access to credit, through groundbreaking and cutting-edge credit scoring systems.
Research shows that Ethiopia's MSME Financing to GDP Ratio was 2% in 2020. This ratio is lower than South Africa's 14% and Kenya's 6% in 2020. Ethiopia's poor ratio is attributed to the crowding-out of credit by the public sector and high requirements for a loan to MSMEs by Micro-Finances and Commercial Banks.
Learn More