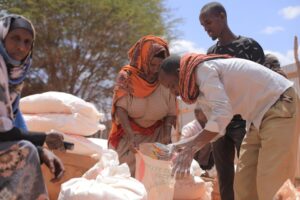 The Cooperative Bank of Oromia, a community-oriented bank has donated humanitarian aid worth Br 70 M to drought-Stricken areas of Oromia Regional State.
The Supplies include food items such as 8,400 quintals of Corn Flour, 2,000 quintals of Corn Soya Blend, 168,000 liters of edible oil, and 56,000 rolls of animal feed (hay).
The distribution started on the 3rd of March, to the lowland areas currently affected by the drought, East Bale, Borena, Guji, East & West Hararge zones.
Adhering to its value 'Concern for Community, Cooperative Bank Of Oromia is committed to upholding the victims.