Coopay-Ebirr: The Ultimate Digital Payment Platform for Fuel Purchases
As the world becomes increasingly digital, more and more industries are shifting towards cashless payments. With digital platforms, customers can pay for their fuel purchases without the need for cash, and this not only saves time but also reduces the risk of fraud. In this blog, we will take a closer look at Coopay-Ebirr, a digital payment platform endorsed by Coopbank, and why it is the finest choice for fuel payment:
Why Customers Should Prefer Coopay-Ebirr?
Coopay-Ebirr is a digital payment platform that allows customers to pay for their fuel purchases using their mobile phones. There are several reasons why customers should use Coopay-Ebirr, and the followings are paramount:
Simple: It is very simple and easy to use, and customers can typically set up an account and make payments easily.
Fast: With Coopay-Ebirr, customers can make payments instantly or within a few seconds.
Convenient: Customers can use both their bank account and wallet in one mobile application, that is Coopay-Ebirr.
Secure: It is generally considered to be more secure, and customers' financial information is protected.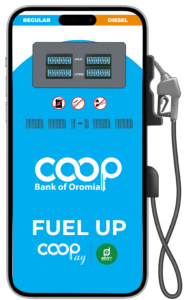 Steps to Use Coopay-Ebirr at Fuel Stations:
Please follow the following steps:
1. Download the Coopay-Ebirr mobile app from App Store or Google Play,
2. Visit Coopbank's branch nearest to you to create an account or dial *841# to self-register,
3. When you pull up to the fuel station, inform the fuel attendant that you will be paying with Coopay-Ebirr,
4. The fuel attendant will process the payment,
5. Confirm the payment amount and authorize the transaction.
Register for the service and pay for fuel with just a few taps using Coopay-Ebirr that supported by Coopbank, one of the top-tier private banks operating in the country.
Try it now and simplify your life!